Read/Leave Feedback
Welcome to the feedback page where you can post feedback (at the bottom of the page) and read feedback about ScannerDanners book and ScannerDanner Premium.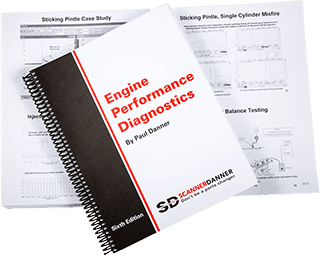 My question is why do I not see you using a high dollar fuel pressure/volume gauge.
I am considering buying one but do not want to if it is really not necessary there is a million other tools I could use.






ERIC Fischer
2 February 2020
Hi Paul,
I have been watching your videos on YT for the past two months and I can say that YOU ARE THE BEST OF BEST. I wish you all the best. If I had lived near PA I would definitely met you in person. My background is in IT, but I love to know how to diagnose a car logically by applying science and common sense.

Thanks,
Omar
Omar Rahimi
22 January 2020
Amazing book, Thank to Rosedale and spécial Paul Danner , you gave me after and accident last july 29, and for de next year ,have to relax and go and start again those Chapter and listen carfully, after few week's i am trying to put some real glue to make a puzzle chapter after chapter and after that every parts every volt amp e.t.c i decide to go little and very litlle to understand E because i am French from Canada, i have running how many kilomètres to join U at this beautiful name Internet, and final I realize after this bad accident I found some thing's to running my head at listen to this 200% no wiring diagram not needed, few 10 in 10 min, how we can be fast and pin point of all resistance all parts name All Ground Spec Deffect, Crazy Crazy tank's Scanner Danner Cia
I would just like to thank you for sharing your knowledge with everyone! When I started my 2 year automotive program, I quite my job and opened a mobile mechanic business to help me get through school. I have used your knowledge along with my teachers at Wenatchee valley college to build my business from the ground up. I started with a rusty old truck and a few tools.I now have a small shop and a fully functional mobile service van. You have made my dream of owning an automotive repair business possible. Seriously thank you
Max Holmes
21 January 2020
Hi,sir ,yes you have to know that you are like a miracle for me also ,if you can serch in between all of the comment that you recieve i've send sth like the same for you ,i'm an auto mechanic and before following your channel my jub was just to do simple things like replacing timing belt and so on,i'm very proud of saying that following your channel opened a new window of mechanic for me ,STFT,LTFT for example is meaning less in the field that i'm working here in my place ,also you and other masters like ivan ,keith and others caused me to learn english and improve it, unfortunately i've same problem ,iwant to by your book but there is no way in my placeto pay for it,i'm looking forward to see you responding my comment also.
Good bless you and protect your family bro.with the best wishes for you man and all of the other masters like you that help other ppl without any expectation.
Amin mombini
17 January 2020
You've taught me more about my scanner than any snapon video's I've seen to date.
I watched all there's at least 3X's and they didn't teach you anything you should of already known. They sell a high tech scanner and expect you to know all about it. Thank you, John
john corke
16 January 2020
I love what you are doing here. It has helped so much. I have had to pick up alot of slack at my shop bc our lead tech got fired. Now I'm next in line. So alot of pressure for a 25yr old who's trade school teacher sat in his office and never gave lectures. Up till now all my diag skill has been self taught. So thank you again. The only thing I could ask for from this channel is away to know where I'm at in a video or which ones I have watched. I'm very busy and most of the time don't have time to watch a full hr video. Again thank you for all the lessons.
Dameon abair
13 January 2020
Excellent stuff Paul. Love your straight forward manner and your honesty. Telling of your mistakes is the sign of a good teacher. The industry truly needs more of you. Have you considered cloning ?
David Dale
9 January 2020
Great Premium site.Q will you be doing any NEW SNAPON VERUS
EDGE SCOPE TRAINING THIS YEAR? ANY NEW BOOKS OTHER THEN THE CURRENT ONE?
THANKS .THOMAS SPINA
THOMAS SPINA
5 January 2020
very good materials both videos and literature parts
jim antony
25 December 2019
One of your on line student from Lancaster PA . English is my second language and I am so proud to be your student. thank you for your help.
Nimairi Kowa
24 December 2019
I am a mechanic by trade. I am 48 years old. I started my mechanical career in a machine shop. I worked on pneumatic and hydraulic systems there. I then went to the auto field for a few years. I was only able to learn what I could pick up from the more advanced mechanics in the shop. so I moved on to work on Industrial equipment such as Forklifts and Aerial equipment. I was able to take a five year course while being there and many Factory direct training opportunities over a period of 16 years. I now work on earth moving equipment for the last 5 years. Caterpillar, John Deere, Volvo, Terex ect. over all the years that I have worked and had training, no one has ever tought me as much or as well as Paul Danner has. People are so very blessed to have this man make this type of training available to the. He is changing the world and making mechanics better all over the world. his training has helped me in so many ways, I just wish I could have had a trainer like him so many years ago. its been a very hard road to travel because I missed out on this type of teaching. I have been tought by many factory direct instructors, but not anywhere close to Pauls
Greetings. I appreciate the effort you put to make everything work. I have been going through the test papers. they really make a difference in enhancing my understanding. However, they dont seem to cover all the topics as they only extend to week 8. Can more of the papers be uploaded if available? Thanks and have a great one.

The Marathon Champion
REPLY FROM SCANNERDANNER:
You will find chapter review questions for all the chapters in my book in those 8 weeks. My class at Rosedale Technical College is 8 weeks long and that is why they are segmented that way. Thank you!
Emmanuel Odhiambo
14 December 2019
First time here
how can i get an answer from you when i had a question working on a car problem
REPLY FROM SCANNERDANNER:
As you can see, this feedback page is not the place. Use my forum! It is free to join and I have paid moderators who are there to help me help you guys! If you have a specific question about a Premium video, you can post those in the comments sections of the videos (just like YouTube) and I will answer those. If you have specific help requests for a car you are working on, again, those need to go to the forum. I cannot keep up otherwise. Thank you!
JUAN PECHER
14 December 2019
I haven't joined yet but the videos on YouTube are excellent, your skills as a teacher and a machanic are second to none
danny walker
8 December 2019
Just wanted to say thank you for the awesome content and information. I've really progressed in diagnostics because of this site. With your help I passed my L1 test on the first attempt yesterday.
its very good explaination.
ariel omila
7 December 2019
discovering SD and joining SD premium was the best decision I have made since I can remember, it didn't cost alot for premium but has transformed my understanding of vehicle electronics beyond what I would ever have been able to discover by my own experience.
once you are equipped with the knowledge on offer here it builds confidence, and the fix success rate goes up along with efficiency. and you start to enjoy not being frustrated the same way.
if you really are hungry to learn join up and run with it you will be glad that your historical self made the decision ?.

Stephen Marshall
7 December 2019
I'll tell you what... my diagnostic capabilities have come so much further than I ever thought. Last week, solved a no start issue on a 2001 mercedes c320. Found there to be no voltage going to several modules in the vehicle, with no ability to communicate etc. Was able to trace voltages back to the front SAM using methods I have learned almost completely from scannerdanner. Resolved the no communication/power issues and still no start. Then found a faulty relay that was activating, but only allowing 300 mv to get to the starter relay. Without his teachings, I wouldnt be able to make the money on the side that I do. It's amazing the difference it has made.
Before scanner danner I was working in a dealership replacing parts according to codes . One day I was working on a older dodge ram and couldn't figure out why the fuel level wouldn't read . Then I so happen to stumble upon a guy teaching students in a classroom how to diagnose a faulty tank sending unit. I was able to diagnose and make money on that repair. https://youtu.be/SIR-quUzZwY. This video is what made me realize I needed to better myself. Soon after I'm watching every free video I could of mr paul danner. I work on mostly medium and heavy duty fleet vehicles , mostly diesel and some gasoline. The foundation he provides works on a wide variety of vehicles . I then told myself if I'm learning this much on the free videos I need to invest more time and money to get myself to the next level. Once I was into chapter 3 I was testing and understanding circuit design on the vehicles at work instead of grabbing parts off other vehicles and guessing. I took an even bigger plunge and quit my job to work in the oilfield industry. I start off this job fixing trucks that everyone just gave up on and that caught the attention of the shop manager. Months pass and I'm fixing more vehicles in a week vs the guessing techs in a month. Replacing parts that fixed the vehicle the first time. Soon after I'm placed as foreman and every job since, due to my ability to diagnose and helping others to diagnose and taking the time , to help them understand why I came to the conclusion of the diagnoses. Right now I'm moving up to being service manager. To sum up this long story I really encourage you to take time and invest in your life because paul danner changed my life. My annual income tripled since I invested in scanner danner premium, if you take the time to learn then there shouldn't be any reason why you cant better yourself. Thanks paul I owe my success to your training and I will never forget that.
Andrew Hinojosa
1 December 2019
I went to school at a well known technical school for automotive tech and paid a lot more for a lot less information than Paul Danner gives you on this site. The premium course is well worth the subscription. Skip the expensive technical school and just pay him. He's a better teacher than what you get with the technical schools, he is more professional, and you can learn at your own pace without all the distractions of the dumb guys around you who aren't there to learn.
I love the class so far. I had bought the book a while back it is packed with information and my wife is paying for the class for my birthday.
Clyde Dunford
20 November 2019
Excellent work and teaching sir
Muhammad Sohail
20 November 2019
It's worse than watching a series on Netflix can't stop watching these videos. Get the book pay the subscription and follow along worked on Aston Martin and jaguar cars my hole life 25 years and have learnt so much right here scanner danner your the man.

Andy northern Ireland
Andrew Lindsay
17 November 2019
Awesome content Paul! Been a premium member since your scanner Danner premium channel on YouTube began and continued to be on your website! Not planning on canceling anytime soon. AVI on demand charge over $100 per video for 1-3hr content on many videos, it is very good content I'm not going to lie but yours is as good as theirs and with 1 purchased video from avi you get a whole year subscription at your premium site! Can't beat that infinity times! Lol. Thanks to you and your online class I've been able to diagnose cars even "technicians" with "years of experience" haven't been able to diagnose. All credit goes to you Paul! Thank you!
too many things a learned.
Paul, hey, new member to premium. I've been watching your videos for over a year now on tube almost enough to think we'd be buddies. Hoping you might know a way to get ASE coupon/voucher A1 -A9 certified wanting to take L1 this week, know I can pass after your training :-) You guys are the Best!
Micheal Cox

Signed frugal, Wichita,ks
Micheal cox
25 October 2019
Hello, I just want you to know that you have been followed all the way in Serbia. And i have been amazed with amount of knowledge that you have and that you are willing to share your with others . I just want to say thank you, and to ask you do you know where I can find similar information about diesel engines. Best regards, and many success in life!! !

Balan Ivan
20 October 2019
Thank you so much!! Single female homeowner that is going through health problems and disability, no income since May 6th 2019 and trying to money anyway I can. Heater motor fan blower started acting up on my 2007 rav4 limited edition and couldnt afford to replace the whole motor and fan unit.
Jamie Zepp
7 October 2019
hey Paul i just joined today i was thinking in the forum for ask a question it would make it quicker if you could have a menu possibly to have questions for specific areas of the car such as transmission or engine or abs .
Maybe you are one of the kind out there approaching problems like this and that's makes you special.I've learned a lot from you so far yet have a long way to go and i thank you so much .One thing i would like to see more from you is doing your diagnosis with different tools.I mean you use all these fancy tools and that's perfect,hope that everyone could afford that,but i would like to see the same tests at the same case using also more simple tools but still be in the same range of accuracy.
Hope you all the best keep up the good work.
Paul
I very much like the site and the way you are teaching. Your passion for cars tells me you really care about you students and fixing the car right the first time .
I am trying to learn the pull up and pull down circuit .the one example you are teaching is on a ford with the fan running all the time My question is does this also work on a car the has can wires that are also going to the fan . example 07 Mercedes C 280 has 4 tires power ,ground single and can wire , will it work for that car , and if so do i perform it the same way thanks Ray
Absolutely love this program. I really enjoy learning new things. Education of high quality costs big $$$. This is the best value possible. The feedback I would recommend is a way to not lose your spot during the lessons. When I have to stop watching and return later, sometimes i am right where I left off. Sometimes I have to restart, and there are so many lessons, it's easy to forget where you were. I've started taking screen shots of my current lesson when I take a break. That way I can pick up right where I left off! Thanks
Jordan Mamrak
28 September 2019
Anybody thinking of signing up to scannerdanner needs to stop thinking and just do it. Paul, I just want to thank you mate, since qualifying I've been in the field for just under 3.5 years. I work for a Ford dealership. In that time I've been watching your videos, purchased your book and spend time learning every night after work. I've gone from being the know "nothing" newbie to being a diag tech with people who have been doing a lot longer than I have coming to me for guidance/help. I've had over 9K in pay rises since I started and next year I will be starting my masters training, were I'll get even more money. And I kinda couldn't have done it without you. So thank you from the bottom of my heart and keep up the good work my friend.

Don't be a parts changer, be a scannerdanner student!!
Hello Paul looking forward to learninig alot from you.
STEFANOS KANDIMIRIS
26 September 2019