Read/Leave Feedback
Welcome to the feedback page where you can post feedback (at the bottom of the page) and read feedback about ScannerDanners book and ScannerDanner Premium.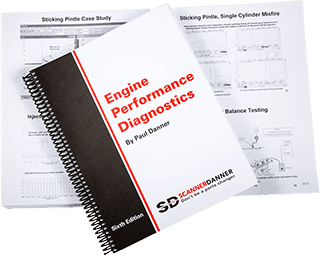 I will always be a member even though I dont use this site as I did before as I have learned an amazing amount and I will give you the subscription fee as long as I am alive as I have used your tool and now make a very good living! Thanks and bless you my friend!
David Maynard
15 September 2019
Hello, a couple of weeks ago you were working on a chev Silverado with a ref circuit problem, tac issue, well my 2007 Silverado was throwing different codes, re map and ref circuit A code, low and behold my harness had the same identical hole over the left valve cover, thank god I watched your YouTube, love you from Washington state
Robert Holtz
14 September 2019
Love your website and YouTube videos...
Just watched your YouTube premier on the KIA Sportage body control module... I was wondering if it would be an option.... before messing with power and grounds at the body module to disconnect the battery at the battery and connect the battery cables together to bleed all power out of all the systems to see if the module acts normal... this way you would not be touching any connections at the module....

this came to as a question after i watch your video.....

Thanks for doing what you do... :-)
William
14 September 2019
If anyone is reading this right now, you should absolutely subscribe to ScanneDanner. Its a minimal investment with a huge return!
My name is Fred, i have bean working on boats for 25 years. I have been to many classes for Marine Engine systems and worked with many different technicians in my field ranging from beginners to Master techs. We all had a very similar way of diagnosing ( hanging upside down in a moldy bilge, holding on the back of a boat trying to read a volt meter or scan tool while under WOT on the water, very dangerous or CHANGING PARTS that were hard to get to to find the problem).
I thought i knew electrical, thought i knew how to diagnose until I stumbled on Paul Danners site ( ScannerDanner ) by accident 3-4 years ago.
It changed my life!

Thank you Paul!



Fred Jochen
3 September 2019
Paul, I wanted to thank you for teaching us what you know . I also thank GOD for you. He placed you in our path for a reason. I'm looking forward to being a part of this fellowship of knowledgeable and humble people. Thanks again.
ive been on scanner danner paid website for a month and ive learned so much about trouble shooting that I have become the # 1 diagnostic tech in just 1 month time...tremendous respect im commanding now with almost no comebacks.....11 dollars a month is a steal.....just followed pauls instructions and memorized them.....I feel like im cheating because I have paul in my corner to guide me.......keep the site up....thanks so much
manuel alves
1 August 2019
Paul, your book and videos give me a new Direction in my life what I want to do and what I want to work. At the moment I'm working in building but after when I buy your book and when I watching your videos I really want to became a professional in diagnostics.
life changing, Thanks.
Borislav Borisov
30 July 2019
Mr Paul you are really impacting thank you sir. I have been watching and learning from far Nigeria.How can I get certified at a low cost?
Not able to access product purchased more than twice. And the support reply is very slow. Not happy with product or service.

ScannerDanner's Reply:
Peter, you have a spam blocker in place that's preventing communication. For anyone else reading this, if you are using one of these, please add support@scannerdanner.com as a recognized contact BEFORE you contact me!
Peter, I can see that you purchase my eBook on 7-4-19 (just a single purchase) and then emailed me the next day asking for your eBook license code (which is automatically sent, after your purchase from bookguardpro and was probably blocked by your system as well). I promptly replied to your request on the same day with this information but my reply email was blocked by your system. I just attempted to email you again, today, after seeing this review, through my personal email and hopefully you will get that one. I have no problem with a refund of the eBook, as you state in this, that you are not happy with the product. As far as the lack of communication goes, this is something I take great pride in is helping my customers personally. To others reading this PLEASE ADD support@scannerdanner.com as a contact! These spam blockers are a HUGE frustration to me.
Last comment to Peter, I will make this right for you. Hopefully you will at least see my reply here and contact me again after approving my support email as a contact.
Peter CARTER
21 July 2019
hello everyone, I felt compelled to leave some feedback here. I discovered paul around 3 years ago and and started to watch and learn, I felt like my eyes had been opened to a world which seemed beyond my reach (electrical diagnosis). since the time before "scanner danner" and now my wages have increased around £7 per hr which I mostly owe to paul and the confidence I gained from him although hard work and investment on my part. point being if you really commit to learn, this is the place to do it, it worked for me and I owe so much to paul. good luck to you all
Stephen Marshall
20 July 2019
Hi sir! I'm hasanal from the Philippines I'm your number one subscriber.. I'm very glad that your channel help me to understand some difficult and common problems of troubleshooting a car unit the latest and the oldest cars.. Somehow I have none of these scanners and meters to be used I can't afford.. But I'm very happy and satisfied a wonderful and nice explanation that easily catch up my learning capabity.. I wish that this channel will conteneusly exist and have a better way to provide to some that ignorant of this kind of technology... Thank you God bless...
Paul, thank you for putting together this valuable resource. This is satisfying my desire to learn, can't wait for school to start back up.

Perhaps it would be worthwhile to move the basic electric concepts to the very top of the listing of the premium videos as a starting point for those that need it or wish to review before jumping in. I know you mentioned in your introduction video on where to start that a subscriber withdrew because they felt the concepts were too advanced. They may not have watched your 'where to start video' or not noticed the basic electronic concepts. Repositioning will put it front and center for new joins that may benefit from the basic electric curriculum.
I have been studying Paul´s material for the last 6 months. My expertise level has gone from 5 to a 8 and I´m still learning and getting better every day. I have been working on cars since I was 14 but now its my main source of income, I do mobile diagnostics and repair.
He´s very good passing on his knowledge, though he rambles a bit at times jajajaja, in any case I am very grateful that he is out there helping anyone who wants to learn what he knows . With his teachings my diagnostics skills have increased my income and shortened diagnostics time.
Thanks Paul
Thank you for putting this together Mr. Danner. This is easily the best information I've found on modern auto systems and diagnostics. Its toned down enough to understand and straight to the point. I am re-watching your videos and I pick up new details every time - stuff you probably didn't even realize you were teaching us. Feels good to be back in school again - and I can't believe the value for the money.

I shake my head when I hear you have to tell your students to pay attention when I'd pay good money just to absorb what you have to say for an hour.

Thanks from NH
Ian Connolly
Mr.Paul I appreciate your program. I am 19 currently enrolling in a Diesel Trade School. 2 Years on hands on experience and will be graduating this December. I finally enroll into your premium channel and bought your book. First thing I learn is omg there is a lot to learn from lol. I have proposed to go section by section and have you as a class with the premium channel. I appreciate your help and you been a great inspiration. I have worked with many guys and the question that I always had is how did you know that was the problem? The mechanical side many awnser me with the correct answer, but on the electrical diagnostic side the 100% answer was idk. I soon realize that many of them were parts changers. The worse decision I considered I can ever make is guessing and not knowing what you actually are working on. I don't want to be a parts changer. That is the reason I always try learning something from your videos I can actually fix the problem correctly. I hate parts changer. Here in Marshall Tx in East Texas that is what it consist of. Im glad we have internet now bc without I wouldn't find you. Thank Mr.Danner ill be enroll in your premium for a good while. You are a true mentor. Sincerely_ Jose Julian Serrano
Jose Julian Serrano
5 July 2019
The book is fantastic, fully loaded and a Blessing to the automobile repair industry, my only issue is that I can only get access to the premium channel video's only when I am either in America or Canada, no access from my home country Nigeria. How can your support guys help?.
Thanks
I signed up because I am a Technology Education teacher who teaches in a district that luckily still values teaching Automotive/transportation Technology. I wanted to best prepare my students for whatever training the go forward with after high school. What I have learned has been worth every penny. In addition I do side work custom wiring race cars and street rods. What I did not expect is how much cross over there is and how much it has helped me in this area with so many computer data loggers and more and more digital ignition controls and EFI even in the performance industry. Thank you for sharing your knowledge.
Peter from kenya how can i join class at rosedaletech.

jr neff
21 hours ago

fact I went to Nashville auto diesel 2001 15k I learned the material now I a danner premium guy fixing a lot from his teaching. like a car or truck comes in late I kind of know what direction to go the next day so I watch mr danner premium channel at night bam the car is usually fixed with what I learned in less than a hr billed out the door if you own a car or truck worth the 11.00 to know how it works trust me it is going to break down DO YOU KNOW WHY. DANNER MAY BE ABLE TO TEACH YOU. thks paul
woodrow neff
29 June 2019
GREAT INFO PAUL! I absolutely love love love the premium channel can't get enough of it you have taught me lots of valuable knowledge even for me being a heavy duty Diesel technician , It doesn't matter I work on literally everything.
Appreciate all the hard work you put in these videos ??
Hey Paul. Mustangmike here.I just wanted to say thanks for all your hard Professional work i learn a lot off your youtube videos which is were i started. I have been one of your online students since feb.This website is the best i just purchased your book through mail cant wait till it gets here very excited.
michael perkins
28 June 2019
Just finished the book and I was not disappointed! I found you about a month ago on you tube and I'm glad I did. between your you tube videos and the book I feel confident tackling projects I never would have before (like my abs light. Found a bad speed sensor using my Rigol scope! not bad for an electrician).
Thanks for all the hard work. I know you do it for more than "the money". Cheers from cape cod.
sandy mclardy
28 June 2019
Excellent work professor. Thank u. I ran into this 2014 lexus es350 the other day with no A/c operation. This compressor had three separate connectors going to it and to get to these connectors is not easy without saying a whole lot of curse words ??. So I checked for a relay and there's is none. Its internal to the box and I couldn't use my uactivate ??. Now the fun part begins ??. Checked for codes in the HVAC module and a code for "flow sensor" circuit high. Now we are getting somewhere. While In there I checked for other inputs such as evap temp, ambient temp and so on. All looked good except the flow sensor sensor pid which read 3.65 volts. Bi directionally I can command the ac to turn on and off. While doing that I was looking at the flow sensor pid while on and no change. Stayed at 3.65. Alldata didn't have info on this sensor nor a good description or operation. I talked to a buddy and he told me that this sensor is internal to the compressor. Some models u can get away with replacing the sensor but not this one. Computer will not send the signal if it sees anything less than 3.7 volts and i had 3.65 all the time.To the computer it means that some type of flow is going on. All in all with the compressor changed out and looking at the pids again..... the flow sensor pid read 4.5 or 4.8 I dont remember , with the compressor not engaged and with it engaged it dropped to 1 volt. Thought I can share my experience with u even though this little piece of information doesnt even compare not even a little with all u shared and taught all of us. U truly are right professor when u say " just with basic principles and fundamentals u can attack any system". You and ur SD premium really changed my life. God bless
Jason Chavez
26 June 2019
hi Danner ma man, your content is second to none m8, in which I have learnt a lot from so that's great, a little pointer on your website to help you out, the layout isn't the best, you need a layout like you did on you tube i.e how you had actual physical sections for each chapter of your teaching were you could click on and view each individual lesson description and content all in front of you and in order without having to search it on your search bar. the search bar is great if you know what you are looking for but if your trying to go from the start of your lessons to the end it can be quite difficult. hope this helps and once again thank you from a mechanic in Scotland
Jay

ScannerDanner's reply:
Thanks for the constructive feedback, I am constantly working behind the scenes to improve the site. If you look at the format of Chapters 2 through 8 you will find them to be organized in a way that I believe has good flow. It is complete with descriptions and related videos etc.
I am also adding descriptions to all of the older videos that were moved over in a group from YouTube (about 250 videos). There are many and this is a timely process but we are getting it done with some help from viewers like you!
Also, I do have a dated playlist, maybe you haven't seen it. It is in the drop-down menu of the ScannerDanner Premium tab, it is a "new videos" list. Every video since Nov of 2017 is in this list (when I first moved over from YouTube).
. i just watched that video, same exact arcing and sticking problem. i used a different set of leads and no more problems. in that video you were looking for your 5 volt ref and your leads were shorted internally and giving you a bad reading. your check engine light was back on so you tried to crank the car while still connected to one of the 5 volt ref circuits. and the whole time im watching (knowing that your leads were bad ) im thinking man , hes shorting the 5 volt ref , its never gonna start and then you realized your leads were bad and went on to explain exactly that . "that you were pulling that 5 volt ref all the way down. "
And honestly man , 2 years ago i didnt even know a 5 volt reference existed, now , i understand the concepts and the theory and have the fundamentals to see the problems and issues just as fast as you come across them. i thank YOU for that mr. danner, and im sure that there are countless, countless others who feel the same way . thanks for everything man. we really appreciate it!!
Patrick reaves
11 June 2019
I became a recent subscriber and it's completely worth the cost no matter what direction you chose to take with the invaluable knowledge you will gain from his teaching. If you make a career fixing cars you'll inevitably earn 2x as much money or you will save hundreds of dollars fixing your own car. Either way, you will win! Thanks so much Paul!
Hi PaUL JUST BOUGHT your ebook is there a way to download as i dont always have internet when in the field im from the uk hope to here from you soon regards Dean Lawson

ScannerDanner's reply:
There is no download or PDF option for my eBook, I understand this doesn't work for everyone, but this format does allow me to offer refunds and exchanges. View the content, make sure it is what you are looking for and if it is, I can apply the cost of the eBook toward the paper book or just simply refund the eBook for you. Thank you! For others reading this, email me at support@scannerdanner.com to handle this type of stuff.
As a DIYer I love scannerdanner (Paul Danner's) videos and online forum, and I own both versions (hardcopy and digital) of his book, which have paid for themselves MANY times over. Here is just ONE repair I recently completed which saved me FAR more money than the cost of the scannerdanner materials: Some say that for airbag problems you HAVE to have a $5,000+ high-level scan tool. I don't. But I learned on the scannerdanner.com repair forum that there are inexpensive dongles you can get that plug into the car's ALDL and will interface with an app on a smartphone that will give you quite a bit of airbag code information and PIDs as well as many for other codes you used to need a high-level scan tool for. To fix my son's airbag problem on his 2005 Ford Taurus SEL, I bought a scannerdanner.com -recommended dongle for about $15.00 and an app for $4.95. I did need help confirming that my understanding of the code data was correct, as well as some guidance on digging into the steering column to fix it. All that help and guidance I got on the scannerdanner.com web forum graciously provided by Paul Danner and his outstanding mods. I was able to fix the airbag light, saving my son hundreds of dollars over a dealer repair; and the experience of doing the repair was a tremendously personally rewarding. I have ten children and seven vehicles in the driveway. I have lost count of the number of repairs I have been able to complete on these vehicles myself, with the help of scannerdanner's materials, saving me tons of money. Thank you PAUL!
Hello, I have a 98 Ford Taurus 24V DOHC. It cranks but no start. As I am cranking, the RPM gauge does not move. I hooked up my scanner and it told me there was a problem with the cam synchronizer, but I don't see a cam sync on this engine. I see a sensor in front of the timing cover, on the radiator side. Is this the cam sensor? I tried registering, but it didn't allow me after numerous attempts. If you can help me through this page, Id really appreciate it.
Thank You
God Bless

ScannerDanner's reply:
As you've probably now figured out, this feedback page does not support a conversation, please post this to my forum. We can definitely help you there and it is free to join.
Nashville auto diesel student 2001 came out not knowing cause they didn't teach the basics I had a 2000 chevy the instructor didn't know how to get my change oil light off a joke when I was there know I am older and knocking down 5 cars a day and 1 tractor I decided to get more training and scanner danner has it bam
Why are making Pay Pal the only options for paying subscription to your training. Not, everybody, wants to join Pay Pal. What about other options, like your debit card, bank account & etc.

ScannerDanner's reply:
My eBook and paper book can be purchased without a PayPal account.
The ScannerDanner Premium subscription service is handled by PayPal and unfortunately is the only way to subscribe. This offers you the customer, the ability to be in complete control of your subscription. PayPal is one of the most trusted on-line services and is free to create an account. You can link any credit card you have to it or even a pre-paid card if that is your preference. I hope you can make this work for you. Thank you for your interest!
Samuel Joseph
1 June 2019
hi Paul ScannerDanner :))
I am teaching your studies from your YouTube channel almost 2 years and I get some fundamentals understandings about autoelectrical basics and today make decision start follow you on your Premium channel …
your knowledge as a teacher is mining so much to me and all the people followed you on YouTube and join the Premium channel …
As a mechanic by trade I need to learn more about electrical involve in the vehicles and your study are full with all kind of electrical going into the cars.
Regard from Australia Melbourne and big thanks to you Paul Danner ...have a good one ..Vane Eftimov
gloria 2019-05-12 21:09

This is Mike G. from south Texas.
I am a construction worker in the refineries with no diploma or GED, make great money but I love mechanic work and helping people on the side.
I would love to mechanic full time but need to learn as much as I can before I make the jump, so my family will not suffer in my chasing my mechanic dream, knowing I will drop in take home money at first.
This premium channel gives me a chance to take courses that I would never be able to take, at my home and at my own pace. These courses are helping me understand. One day I will get my Diploma or GED so I can get my ASE classes.
This video made total sense for fuel trims.
thank you for what you do, and make it easy to learn.


Guys I have been watching Danner for a few years on YT. I am about to buy his text book. I work as a heavy equipment field tech and as we all know cars and machines are getting more complicated as far as electronics go.

If you're not willing to fully understand electrical diagnosis you will have a hard time in this field. I just can't begin to explain how much danners material has helped me. There is no greater joy than going out to a job that other mechanics have spent lots of time on and still haven't fixed it. Then you show up, and pin point the issue quickly and methodically and have it up and going.

The instant gratification you get from a sewing a customer happy that their machine is fixed is my drive to get better. I'm even shopping for a scope!! That's the next thing I'm going to add to my electrical troubleshooting arsenal.

Danner is a badass tech as well as a top notch teacher.
For the money you can,t beat Paul's teachings. He is a great guy and a great teacher. He will bring you from knowing nothing about diagnosing modern vehicles electrical systems and operational theory to understanding them in no time. You can follow along with his students at Rosedale Technical College for a fraction of the cost. He even brings you along with him on real live cases studies in the field. As a added benefit if your having a problem understanding system/problem on a car you can even seek great advice on his forum. What more can you ask for, at a really affordable price. I've been following Paul for over five years and the information and knowledge I have gained is priceless ! Thank You Paul !