Read/Leave Feedback
Welcome to the feedback page where you can post feedback (at the bottom of the page) and read feedback about ScannerDanners book.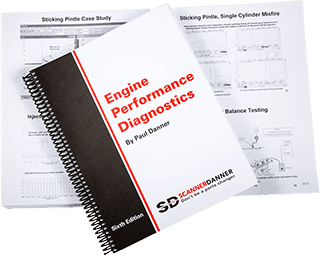 Leave/Read Feedback
Hello Paul first of them all. I want to thank u for all the great work u done in the automotive field a little about me my name is Victor Aguilera from a little town called soledad in California I basically started from nothing in the automotive field know I hold a position as a mechanic in a shop uve change my life completely I owe u alot from my understanding of using a scope and actually understand wats going on I might of never gone to rosedale tech but I cud honestly say I feel like I'm one of your student "
The more i read your book and watch the premium video's the more everything falls into place and becomes easier to understand.Anyone who is interested in automotive fault finding needs to get both the book and premium channel as you will not find a course like this anywhere for the price.Thank you
Paul for sharing your great knowledge ,the way you teach is awesome !!!
I am a diyer and this course has really opened up another world for me learning troubleshooting ..I have been using some of your testing techniques on my own vehicle to practice ..Today i checked my powered windows to see what the circuit was and found that they are a pull up design using the voltmeter method with switch unplugged . I was able to power the windows up and down using an incandescent test light with test light connected to positive ..Fast and easy way to check using the methods from the book and video's. I am addicted to watching your video's as they are so informative !! thanks for all your effort over the years as your knowledge is helping others who probably thought they could never be able to understand or do the tests, but now with this learning material anything is possible.
A big thanks to Paul Danner for allowing his teaching to be accessible to all of us! After 20 years of being a boat technician, I am and continue to learn a much more efficient and profitable way of approaching technical problems in my field. Its not just about learning how the systems work, he also teaches how to trust what you know to be true. Thank you again for your due diligence in your recording and teaching methods.
in diag what do you think about mode 6 to tell of future failure of sensors
Will the Ebook help me repair the fuel gauge on my Toyota 89 4runner that always shows full?

SCANNERDANNER comment

Not directly for the 89 Toyota but it will give you a foundation that will allow you to troubleshoot anything!
Anyone who has not got the book i say get it you will not be disappointed it ties in really well with the videos and is great to fall back on.I have learned more From these video's and Paul's book than i ever imagined .Have joined his premium channel as well as there are more excellent video's like this on there .I am from the UK and all this material can be used around the globe.Glad i found "Scanner Danner " as he is a TOP TEACHER !! Thank you Paul.
Recently owner of the eBook and a member of the premium channel. It will take a while to go through all of this great material. But from what I've seen yet, free channel and premium, it's more than I expected. Paul is not kidding when he says you won't find better. The combination between his book and being able to be part of his online classes is awesome. Not to mention the many case studies. I recommend this to everyone out there whose interested in diagnostics. You won't regret it. Even if you're not a professional. Also check out the forum. I've been a member for a couple months now. You'd be surprised how many great guys are on this, with a lot of knowledge and skills. I realize people don't know me, but I've been in the field for almost 11 years now. I went through many technical trainings during these years, especially dealerships, and just to come to the conclusion that they suck! That's my opinion.
Thx Paul
Paul is an oustanding teacher and technician who I am sure inspires his students. As an old now retired pro from a family who have been almost 100 years in the car repair trade I use Paul's channel to keep my skills up to date. Paul shows how to research the system, then working from basic principles alternative tools and a methods to diagnose the problem.
More that I was expecting , amazing book ( I got the ebook) !!!!!!